What we do
The PHAROS4MPAs project delivers a series of recommendations on the necessary practical collaboration between MPAs and 7 maritime sectors:
TRANSPORT

Maritime traffic and ports
Cruise
TOURISM

Leisure boating
Recreational fisheries
FISHERIES

Aquaculture
Small-scale fisheries
The aim is to achieve enhanced management effectiveness for marine protected areas through awareness raising, capacity building and networking. This will be supported by the inclusion of MPA network issues in the national maritime spatial plans that EU Mediterranean States are developing by 2021 and in the strategies developed for maritime sectors.
Ultimately, the project will contribute to maintaining marine biodiversity and ecosystems through strengthening the management and networking of Mediterranean MPAs.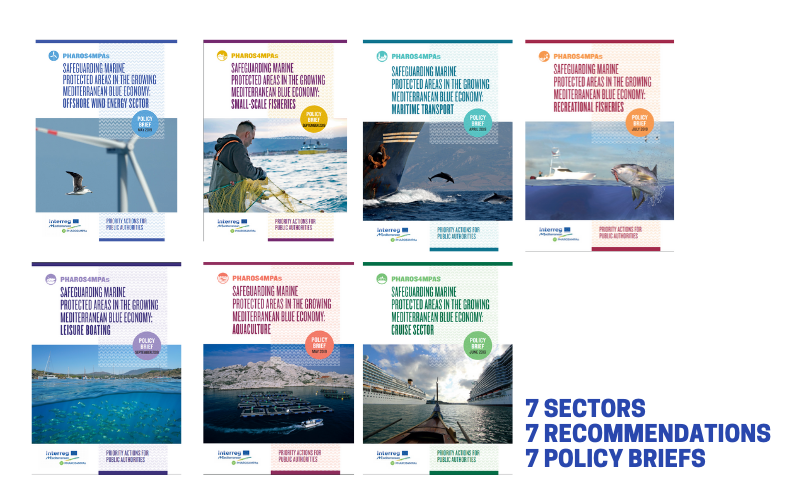 What is innovative about the approach?

The concept at the heart of the project - an integrated and proactive approach to interactions between MPAs and maritime sectors - has not yet been addressed by the MedPAN network and its member MPAs, nor by the Regional Activity Center for Specially Protected Areas (UNEP Mediterranean Action Plan).

The project targets four diverse groups:
Mediterranean MPAs represented by the MedPAN network and national MPA agencies;
Maritime Spatial Authorities in the 7 countries of the project, at the European Commission level and the Barcelona Convention level; this target is absolutely key and reflects the fact that MPA management effectiveness cannot only be addressed within the boundaries of the MPAs but urgently needs to be taken into account in maritime spatial planning development outside the MPAs;
Maritime sectors in the countries of the project and at EU level;
Other international stakeholders: IUCN (Green List Programme, Business and Biodiversity Programme), Convention for Biodiversity.
Discover our online Decision Support Tool
The main objectives of the tool is to support the operationalization of the recommendations produced within the project, translating the knowledge from the capitalization baselines reports into a fully user-friendly online tool.
The tool is specifically intended for three kind of users: MPA managers and planners, public authorities and economic operators, to help them to easily find the recommendations and other information (e.g. best practices or case studies) that are more useful for their specific needs.